Advantages of Maize Milling Machine
What are the advantages of Maize milling machine?
Starting a corn processing business, it is best to have a better understanding of corn processing machines and corn processing steps so that you can have a clear understanding of the investment cost of corn processing. Maize Milling Machine is used to process corn or corn so that it is safe to eat for everyday food use. All grains are first washed and then conditioned.
The small corn mills offered by Pingle are the most popular corn processors in South Africa. Our equipment is all made of high-quality materials to ensure high production efficiency. Since we are a flour mill machinery manufacturer, we can guarantee ex-factory prices to our customers. We provide custom designs for entire corn processing plants. If you are interested in our equipment, please contact us directly for price list and machine parameters!
Pingle Maize Milling Machine is composed of four major systems: peeling system, crushing system, grading system, and air-net dust removal system. It solves the historical technical difficulties of Maize processing machinery such as stuffy cars and slow trash discharge. In addition, a new automatic discharge adjustment system is added to maintain the old The double inlet of the machine reduces mechanical wear and increases the life of the machine, so that the machine is always in the best working condition. It is currently the most advanced Maize grain processing equipment in China. When Maize, rice, wheat, etc. enter the dehulling chamber from the hopper, they will travel to the exit under the rotation of the propelling ribs. In the dehulling chamber, the density between Maize will increase due to the gradual reduction in the volume of the working chamber and the influence of mechanical resistance. The effect of squeezing and matcha inside the machine is enhanced, the roller is constantly turning and advancing, friction and peeling action between the parts, so that Maize can not get rid of clean. The cleaned Maize enters the crushing system. Under the crushing and traction of the traction clutch crushing device, the material travels in the crushing process, enters the grading system and automatically separates to obtain Maize noodles, Maize big grits and Maize small grits, and pass The wind screen dust removal system cleans and removes dust, and the product obtained is uniform in size, without edges and corners, bright in color, and excellent in taste.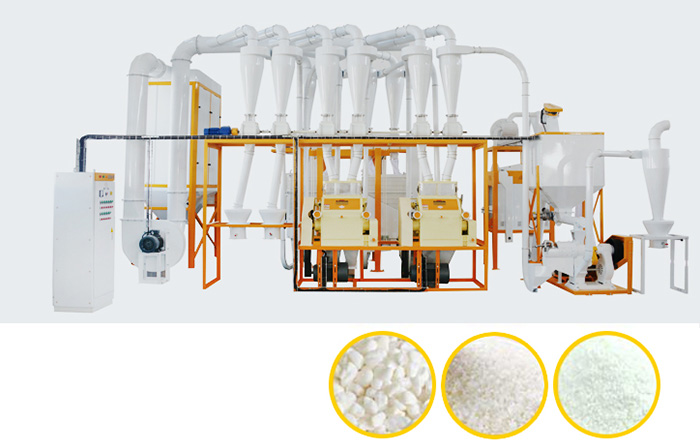 maize milling machine
Advantages of Maize Milling Machine
Composed of 50-type grinding head and powerful impact mill, with scientific and reasonable design, it can work alone or in linkage.
It has a wide application range, and can process corn flour and miscellaneous grain flour with different meshes and specifications to meet customer needs.
Imported grinding shell and wheel barrel, chain drive system, long service life.
Safe and reliable performance, convenient operation and maintenance.
High degree of automation, reducing labor intensity.
Low energy consumption and production cost, high efficiency and good benefit.
Low noise, no dust, energy saving and environmental protection.