What Size Winch Do You Need for a Car Traile?
The size of the car trailer winch depends on the weight of the car being towed and the conditions in which the trailer will be used. A general rule of thumb is to have a winch with a weight capacity that is equal to or greater than the weight of the vehicle being towed.
For example, if the car being towed weighs 4,000 lbs, a electric winch with a weight capacity of 4,000 lbs or greater would be recommended.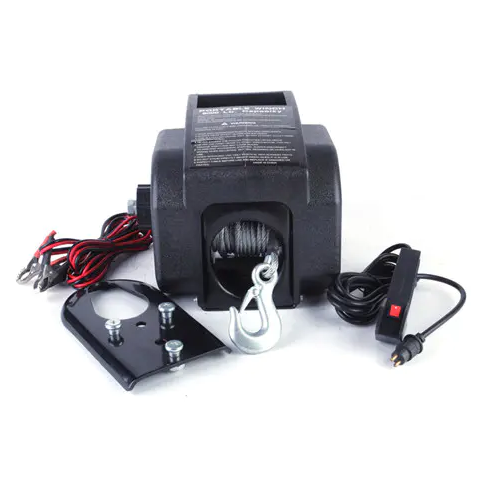 In addition to the weight of the car, factors such as the type of terrain, the length of the tow, and the overall weight of the trailer and its contents should also be considered. For example, if the trailer will be used in off-road conditions, a winch with a higher weight capacity may be needed.
It's also important to consider the winch's duty cycle, which refers to the amount of time the winch can be used continuously before overheating. A winch with a higher duty cycle is recommended for extended towing or heavy loads.
Winches typically range in weight capacity from 3,000 lbs to 20,000 lbs. A 3,000 lbs winch would be suitable for small cars and light trailers, while a 20,000 lbs winch would be suitable for larger vehicles and heavy loads.
It's important to choose a winch that is compatible with your trailer and has the necessary winch accessories. Some winches require a winch bumper or winch mount, which may not be included with the winch and must be purchased separately.
It's also important to establish your budget and find a winch that fits your parameters. Just bear in mind that a cheaper winch will probably cost you more in the long run, because you'll always be repairing it. Get the best quality winch you can afford, and you'll be thanking yourself in the future.
If you're a beginner when it comes to winching and trucks in general, you're going to want a winch that's nice and simple to install. Getting a complex one will frustrate you beyond imagination and you'll probably have to shed more money to get a professional to do it for you. Save your money, your sanity, and your pride, and opt for an easy-to-install winch. Conversely, if you class yourself as an expert, this factor is going to be much more lenient when affecting your choice. You could even go for a complex installation to challenge your engineering skills!
Size and weight. You need to get a winch that will fit on your trailer- obviously! Measure the width of your trailer and go from there. You also don't want a winch that's too heavy for your truck as this will mess up your weight distribution and could affect the way your car drives and handles.

If you don't know how to choose the right car winch, please contact us to help you.