How to Repair a Broken Internal Thread?
The bottom of the groove of the internal thread can be rounded. If the shape of the bottom of the groove of the thread is not specified, it can be cut flat or rounded when turning. The threads on bolts and plugs are external threads, while the threads on nuts and pipe joints are internal threads. In general, the threads on piping are pipe threads. How do we fix a bad internal thread? Please follow GSR to find out!
What are the reasons for bad internal threads?
Internal threads can be worn out due to long time use and cause slippage; they can also be corroded and cause messy teeth; they can also be deformed due to wrong bolt selection and forced screwing; and they can be processed wrongly and cause the threads to be unusable ...... Some important parts cannot be discarded because one or a few internal threads are damaged. Is there an economical and easy way to repair these damaged threads? Yes, there is! That's by using GSR's repair tool for internal threads.
The thread repair tool not only saves important parts, quickly and effectively restores them to their original condition, but also meets or exceeds the original design specifications using the original specification bolts.
How to repair threads?
1. Select a suitable drill to polish the original damaged internal threads.
2. Tap the thread using the thread sleeve tap.
3. Screw in the thread sleeve with the special installation wrench for thread sleeve.
4. Use the thread set punch to punch off the mounting shank (if the hole is blind and deep enough, it is not necessary to punch off the mounting shank if it does not affect the normal screwing of the bolt).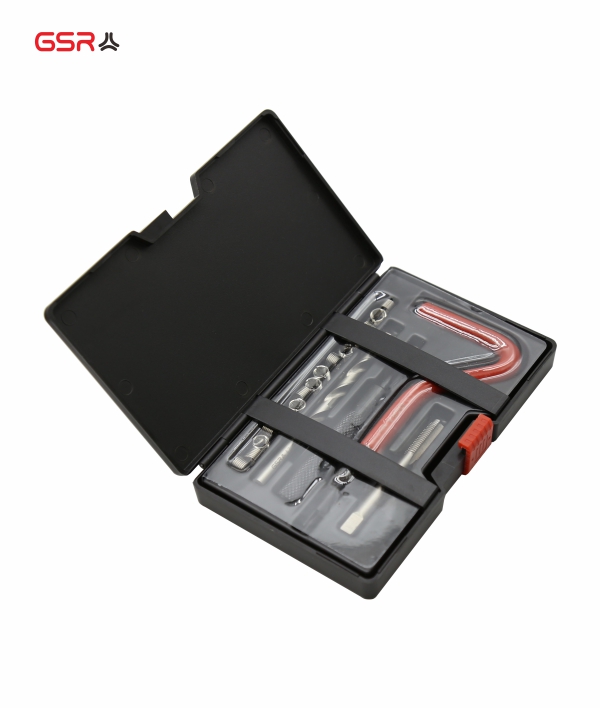 GSR thread inserts are used to repair or reinforce threads by maintaining the original nominal size.GSR now offers a complete line of metric thread inserts as well as specialized assembly tools. To store the kit, we have developed a molded plastic box for each size and two large boxes for repair sorting.
GSR threaded inserts are highly flexible, cost effective and easy to assemble.