How To Operate A Scissor Lift
When operating a scissor lift it is vital to follow specific operating instructions for optimal safety. No matter what, the operator of a scissor lift must make sure that their safety, as well as the safety of others, is of the highest value with proper safety precautions in place.
At Milo Access Platforms, we supply an array of scissor lifts for hire, but they all require the same sort of operating steps.
What Is A Scissor Lift?
Scissor lifts are a popular model of aerial platform lift with vertical mobility, and are ideal for both indoor and outdoor tasks. Scissor lifts tend to allow for precise tasks to be carried out at high elevations, and vary in size, application, and fuel type.
Delivering long lasting performance, with large platforms to accommodate multiple operators and equipment scissor lifts are a vital piece of equipment in a number of environments including construction, manufacturing and industrial.
When Would You Use A Scissor Lift?
Most scissor lifts have a diverse range of uses, and are suitable for various applications that would usually require a ladder, scaffolding or a tower. They offer plenty of workspace and mobility for different applications including construction, warehouse organisation and management, and indoor maintenance.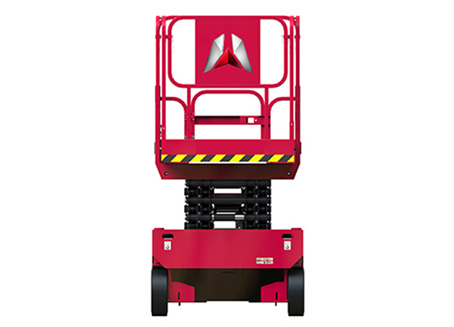 Offering ease and stability, and the ability to reach inaccessible areas, these pieces of equipment allow operators to complete tasks that require up and down mobility, in a safer and more time efficient manner.
Preparing The Workspace
Before beginning any task, you need to make sure you have prepared the space you are going to be working in. This can include warning signs such as yellow caution tape and red danger tape. You will need red danger tape if there is a possibility that items may fall on top of people.
Another thing to note is that you must always make sure you are using the scissor lift for sale on the appropriate ground, such as a smooth and stable road. This will prevent any potential injuries to yourself.
Pre-Work Checklist For A Scissor Lift Operator
Always make yourself aware of safety procedures, as you will know, access platforms do not provide any protection against electrical conductions, power lines and even apparatus associated with electric currents. Not only this, but the machinery isn't insulated so it doesn't protect against incidents.
Once you have cordoned off the area you wish to work, you should then check for any potential obstacles, both on the ground and overhead.
How To Use A Scissor Lift
All of the controls for your job are always located in the centre of the operator section. Scissor Lifts have a high and low range to be used when travelling. The high range can be used if you have a clear path, while a low range should only be used when you have a more difficult path, such as rough terrain, an uneven surface or when operating in tight areas. Always make sure you protect the platforms and railings when performing certain tasks by using the control panel to safely operate the scissor lift.
Shutdown Instructions
Once you have finished the task, you need to slowly lower the platform down and stop the scissor lift by pressing the stop button. Then lower the platform down slowly, before pressing the stop button on the base section. Once finished you can turn off the scissor lift by using the key and then climb down from the platform. Make sure you clean up any debris that may have fallen during your job and tidy up any additional equipment.
One thing to remember, make sure you plug the scissor lift in to charge for the next time.