Application of DC Small size portable water chiller
Small water chiller use DC power supply, using coolant as heat transfer medium, transferring heat generated by other instruments or equipment that need to be cooled, and dissipating heat to the outside of the equipment through the refrigeration system, thus ensuring that theequipment works within the normal temperature range.
The cooling machine and the instrument and equipment rely on the pump pressure to form a closed medium circulation, and the temperature sensor detects the medium temperature to implement the control of the refrigerator. If you have any question on small water chiller, please consult us.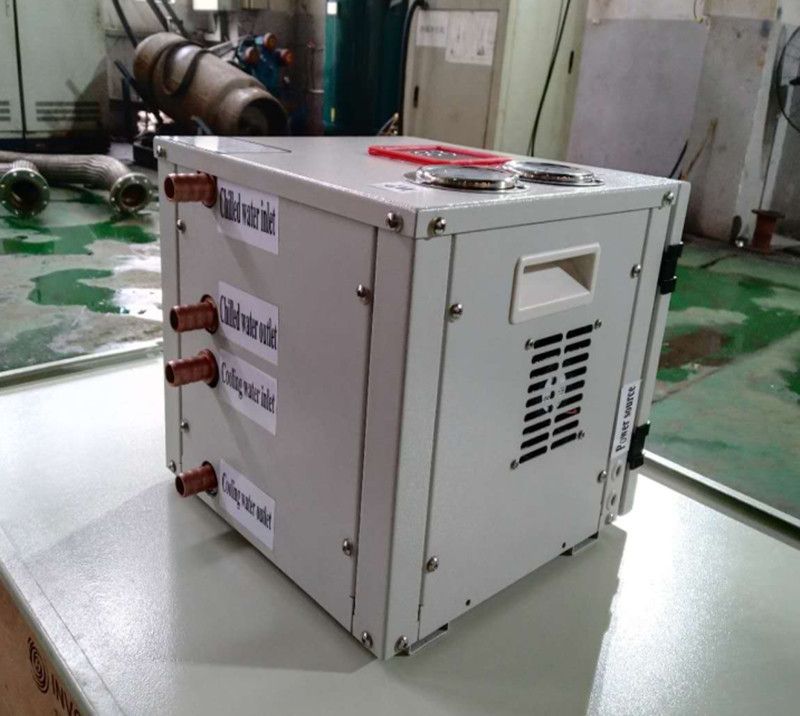 Application
The small water chiller is a micro refrigeration system that especially applies to a microclimate cooling system and provides extraordinary cooling capacity for the extremely hot environment and confined space.
1.It applies for microclimate cooling system and provides extraordinary cooling capacity for laser, computer, body cooling, racing, firefighter, EV battery, electronics, medical & aesthetic device.
2.They cool machines and tools during drilling, welding, milling, and other forms of metalworking, but also during tool changes.
3.Due to their compact size, small cooling water recirculating chillers are also frequently found in laboratories. There they are used for cooling autoclaves, reactors, measuring instruments, and other objects.
Technicial parameter
Small size water cooled chiller
Item
Description
Unit
Parameter
1
Water cooled chiller
Model
HTB-M1.5S-24/36D
2
Power


DC24/36V
3
Cooling capacity
W
1500
Kcal/h
1290
4
Power consumption
W
240
5
Running Amps
A
11.7
6
Compressor
Type
Small DC compressor
Quantity
1
Starting method
Direct start
7
Refrigerant
Type
R134a
Quantity
300g
Control
Capillary
9
Evaporator
Type
Plate heat exchanger
Water inlet temp (℃)
24
Water outlet temp (℃)
19
Water flow rate (L/h)
172
Water pipe
DN10
10
Condenser
Type
Plate heat exchanger
Water inlet temp (℃)
30
Water outlet temp (℃)
35
Water flow rate (L/h)
220
Water pipe
DN10
13
Dimension
L*W*H(MM)
300*300*280
14
Weight
KG
20.7kg

Configuration table:
High Performance Spare Parts & Accessories
Item
Specification
Brand
Country of origin
1
DC Compressor
Hitachi/Panasonic
Japan
2
Evaporator
SWEP
Sweden
3
Condenser
SWEP
Sweden
4
Dry filter
Emerson
America
5
Capillary
Customized
China (Huazhao)
6
Microcomputer controller
Customized
China (Huazhao)
7
Pressure Switch
Danfoss
Denmark
8
Refrigeration
DuPont
America
9
Pressure gauge
SK
China
Advantage
The benefits of small water chiller include ultra-small radiator and high heat flux. It does not only facilitate installation but also assures end users having excellent cooling performance. Users only need to connect the liquid inlet pipe and outlet pipe to get the chilled liquid they expected.
A Reliable Supplier for Small Water Chiller and Leading Small Cooling Solution Manufacturer
Huazhao small water chiller offers 12V, 24V, and 48V voltage input options and is compatible with various currents. It is widely applied to battery, electronics, laser, medical devices and other thermal management of precise instruments. It provides excellent cooling performance.Apart from the standard small chiller system, Huazhao also custom made or personalize small cooling modules to meet customer's special demands. Just contact us.